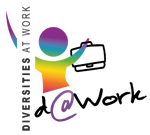 In several EU countries, many people are stigmatised due to their sexual orientation or to their gender identity. There are discrimination and violence vis-à-vis LGBT+ people in society, at school, but also in the work environment. It is therefore necessary to improve the position of LGBT+ workers in order to reduce and counter the unease they often experience in their professional lives.
Furthermore, it is necessary to introduce a new diversity dimension in businesses, aiming not only at countering LGBT+ discrimination – by promoting tolerance for others including gays, lesbians, bisexuals and transsexuals – but also at encouraging the enhancement of difference based on sexual orientation, to be seen as a productive resource, which may even contribute to strengthen the business potential of companies. As a matter of fact, HR management has been playing and increasingly significant role within companies, shifting from a merely administrative task to a more strategic activity, given the importance attached to human resources and their development by modern management models for the attainment of corporate targets.
The ERASMUS+ "Diversities@Work. Reducing LGBT Discrimination and Improving Diversity in Workplace. Counselling and Training Tools for Enterprises" Project shall build on the Crossing Diversity Toolkit, which was developed in the framework of the LLP-Ldv-TOI EURIALO Project (www.eurialo.eu). The toolkit consists of a Handbook, with some Annexes and 9 Theme Guides, targeting teachers and social/health operators. They were designed to help such target groups to counter LGBT+ discrimination and discrimination based on ethnicity at school, among young people. The tools and methodologies proposed and included in the old kit shall be adjusted in order to fit HR experts, business consultants, and businessmen/women, allowing them to acquire the competences and skills required to introduce or improve LGBT Diversity practices in the workplace.
Therefore, the Project will have:
Direct targets/beneficiaries, namely HR experts/managers, business consultants and trainers, and businessmen/women
Final targets, namely LGBT workers, but also heterosexual workers.
Actually, the main idea is that of favouring the spreading of a culture of wellbeing and acceptance improving the working conditions of LGBT+ people, thus producing a positive cascade effect, also leading to increased/better business productivity.
In such a perspective, the Project Partners – namely companies and Organisations from Italy, Spain, Belgium, Austria and Bulgaria that have been collaborating for quite some time now and share the same strong commitment to and awareness of the topics tackled by the Project – developed their idea. Such idea consisted in developing and delivering a product that, considering the needs of its target groups, could best meet the need for inclusion and enhancement of differences based on sexual orientation, meanwhile providing business development opportunities.
In order to reach such goal, the Project envisaged multiple stages. In the first phase, a thorough analysis and data collection was carried out in each Partner Country on the working conditions of LGBT people, on the existing LGBT Diversity good practices/policies, if any, and on the LGBT Diversity training needs of corporate HR managers. Then the Partners studied the Crossing Diversity tools in order to identify their strengths, their weaknesses, and sustainability and see how to adjust them to the corporate/work environment.
Companies were directly involved in that stage, with a view to adapting the toolkit as effectively as possible to the needs of companies and LGBT workers (but not only them).
The new tools developed for companies – which were translated into the languages of all Project Partners and into English – were then tested and implemented through training/awareness raising workshops targeting HR Experts and managers, business consultants and trainers, and businessmen/women. The workshops took place in all Project Partner Countries.
Training envisaged accessing the teaching material through e-learning sessions via this Project web site (www.d-work.eu).
Furthermore, for all activities, thorough and continuous dissemination was carried out through the Project web site, regular newsletters, brochures, leaflets, posts on social networks, and national workshops that are organised in all Project Partner Countries. Besides, a Project kick-off conference and a final conference are organised.
Diversities@Work has a 28-month duration, from September 1st 2014 to December 31st 2016.